Trustwave Secure Email Gateway

Total email content security through unified threat management, anti-spam, content security, policy enforcement and data loss prevention
Despite new and emerging methods of communication, email remains the top communications tool for businesses. It is no wonder cyber criminals still use email as a primary channel through which to wage their attacks. In addition to dealing with these risks, organizations also must be wary of confidential information going out the door – either accidentally or intentionally. These events can result in monetary loss, compliance violations and/or brand damage.
Take the complexities out of protecting against malicious email attacks and ensuring confidential information remains secure with Trustwave Secure Email Gateway. It delivers unmatched email security for organizations of all sizes through a single, scalable solution that comes outfitted with advanced protection against modern threats, powerful policy configuration and in-depth data security and compliance management. With Trustwave Secure Email Gateway, you get superior email security and a whole lot more.
Trustwave Products
Trustwave Secure Email Gateway
Trustwave Secure Email Gateway
Contact us for Pricing!
Overview:
Complete email security requires visibility of all blended attack vectors coupled with granular policy and content controls – Trustwave Secure Email Gateway delivers all that and more.
Backed by our elite security research team, SpiderLabs, Trustwave Secure Email Gateway provides unmatched protection against advanced threats and comprehensive data protection controls to keep confidential information from leaving your organization and falling into the wrong hands.
Flexible deployment options: on-premise software or cloud
Protection against blended threats that use multiple vulnerabilities and methods to spread
Multi-layered anti-spam approach that maximizes effectiveness and minimizes false positives
Granular and flexible policy engine to meet all your needs
Powerful DLP protection to help achieve regulatory compliance and protect your intellectual property
Features:

Threat Protection
Trustwave Secure Email Gateway incorporates industry-leading web threat intelligence to effectively thwart emails that contain malicious URLs and deliver real-time, zero-day protection against the latest email-borne threats. Using our proprietary technologies, SpamProfiler, SpamBotSensor and SpamCensor, you can experience a consistent 99.5% spam catch rate with near zero false positives - all with no special tuning.

Data Loss Prevention
Trustwave Secure Email Gateway analyzes, manages and controls outbound content to provide full DLP-level inspection on emails and attachments to effectively manage confidential data and help meet stringent regulatory and industry requirements. Using custom Text Censor classifications, you can develop the DLP policy that meets your exact business needs.

Extensive Policy Controls
Trustwave Secure Email Gateway provides unmatched policy configuration flexibility with an advanced engine that allows for the building of custom rules based on trigger points, content filtering and other policies at a highly detailed level. Implement policies based on virtually any aspect of the message (e.g. header, attachment, body, etc) or by user, department or domain. Trustwave Secure Email Gateway helps you solve many business process needs that far exceed the capabilities of normal email security solutions.

Blended Threat Module
BTM rewrites URL's embedded in emails to route them through a cloud-based instance of Trustwave Secure Web Gateway (SWG) to protect against malware and phishing attacks in real-time for any device. With attackers compromising URLs sometimes days after sending the malicious email, it is imperative to scan embedded URLs each, and every, time the URL is clicked. The Trustwave Blended threat module ensures that even when you click on URLs in emails from a mobile device, you are protected. Trustwave BTM works with both on-premise SEG and SEG Cloud through a completely cloud based infrastructure.

Management and Reporting
Comprehensive and customizable reports put all the information at your fingertips to give you full visibility of your organization's email activity - types and volumes of threats, where emails are coming from and which policies are being triggered. Schedule reports to be run on a regular basis, automatically email or publish reports and save reports in multiple file formats.

Email Governance Best Practices
Trustwave Secure Email Gateway empowers organizations to implement and optimize content and DLP policies with its monitoring mode. Easily check a rule's effect to make adjustments before implementing more stringent quarantine policies.
How It Works
Deployment Options
Trustwave empowers you to choose the flexible and high performance deployment option that best fits your needs.

On-Premise Solution
Delivers granular control, installed in your own environment.

Cloud Solution
Provides the same powerful features as on-premise plus the appeal of the cloud (SaaS or private cloud model)
Trustwave Secure Email Gateway at a Glance
Administrator dashboard
Policy configuration and management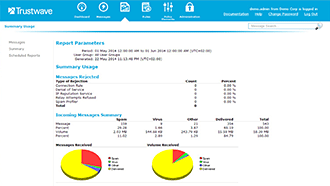 Reporting
Who Uses Trustwave Secure Email Gateway?
Trustwave Secure Email Gateway is one of the world's most successful and popular email security solutions. Used by thousands of organizations, Trustwave Secure Email Gateway customers range from small businesses to large, multi-national corporations and government agencies.
Service Options
Standard Support includes email and phone support, plus maintenance updates.
Premium Support includes 24x7x365 email and phone support plus maintenance updates for Trustwave Secure Email Gateway.
On-site installation and professional services are also available.