Trustwave SIEM Enterprise

Suited towards customers with medium to mature security and compliance requirements
Trustwave Products
Trustwave Enterprise Software
Trustwave Enterprise Software
Contact us for pricing!
As IT infrastructure becomes more distributed and vulnerable to attack, security information and event management (SIEM) technology becomes more essential for real-time alerting, analysis and auditing. Trustwave SIEM Enterprise provides the critical insight and information needed for organizations to proactively respond and manage security risk and compliance in easy-to-understand ways.
Overview:
SIEM Enterprise enables organizations to quickly address their compliance requirements and take a proactive approach to their security risk management strategy.
Purpose-built with a focus on simplified management, SIEM Enterprise's intuitive, browser-based user interface makes it easy to centrally configure, update and operationally maintain across your environment. SIEM Enterprise is the go-to solution for organizations that need to sort through disparate logs from security products and devices to detect threats and manage risk and compliance requirements.
Why do customers choose Trustwave SIEM Enterprise to detect, understand and respond to security incidents, and ensure they don't happen again?
Supports 230 devices out of the box
Powerful correlation engine
Advanced filtering and searching
Full breadth of compliance controls
Big data security analytics
Features:

Security
Advanced Correlation and Threat Management Assessment
Our industry-leading correlation engine offers flexibility and configurability to meet your evolving needs. Functionality includes rule, vulnerability, statistical, historical, heuristic, threat, asset, behavior and risk-based support.
Deep Forensics
Boolean logic filtering enables you to search data for in-depth insights, threats and root causes. You can easily save, share and reuse searches, filters, lists and reports through an easy-to-use wizard-like interface.
Big Data
SIEM Enterprise incorporates advancements that address bigger data and analytics challenges. The product contains highly scalable, distributed architecture capable of collecting, normalizing, correlating and reporting on more data than ever before.

Compliance
Audit Ready
SIEM Enterprise lets you effectively meet your audit needs with consistent controls based on best practice frameworks and regulatory and industry requirements. Real-time control monitoring, compliance reporting, automated compliance alerting, notification and scheduling capabilities ensure your organization stays ahead of the threat curve.
Mandate Friendly
SIEM Enterprise employs a consistent set of controls from best practice frameworks and regulatory, industry, and GRC requirements - and then monitors control performance in real time. Compliance control coverage is included at no additional cost.
Enhanced Reporting
More than 600 compliance-focused reports, with more than 2,600 overall reports, are available. The reports can be scheduled or run ad-hoc against alerts, events and trend data. Configurable dashboards, correlations and filters let you quickly gain value and reduce risk.

Operations
User Experience
SIEM Enterprise includes a familiar browser-based UI design with workflow support for analyst threat monitoring and incident response tasks. A 'Finder' function significantly enhances the ability to quickly identify events and activities of interest.
Practical Maintenance
Easy-to-install data modules enable standard and customized log acquisition from almost any audit source - all complemented by automated updates and centralized management. This enables collaboration among various departments.
Blended Architecture Support
SIEM Enterprise complements existing investments in Trustwave Log Management Appliances to help simplify large and complex deployments.
How It Works: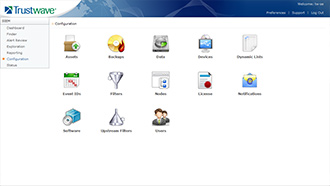 Configurable dashboards, correlations and filters let you quickly gain value and reduce risk.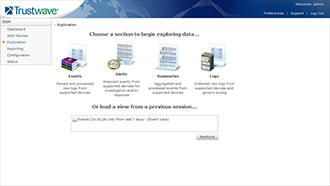 Quickly choose and search relevant data.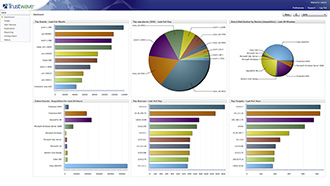 Easy-to-analyze dashboards, reports and workflow provide critical data at your fingerprints.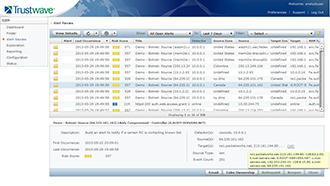 Learn what is impacting your organization so you can mitigate threats and meet requirements.