Trustwave Data Loss Prevention

Help organizations align the protection of sensitive data to strategic business objectives, corporate security policies and compliance-driven mandates
Explosive data growth makes it harder for businesses to track, protect and contain sensitive data within their corporate borders. Rapidly changing IT environments with shifting borders make this even more difficult.
Trustwave Data Loss Prevention helps enterprises discover, monitor and secure data at rest, in motion, and in use to prevent exfiltration and ensure regulatory compliance.
Trustwave Products
Trustwave Data Loss Prevention
Trustwave Data Loss Prevention
Contact us for Pricing!
Overview:
Ready to go out of the box with more than 70 predefined policy settings and risk categories that can be switched on or off, Trustwave Data Loss Prevention focuses on the three pillars of data security: monitor, protect, discover. The solution enables organizations to gain complete visibility into all external attacks and insider risk, whether inadvertent or malicious, and to control violations before they occur. Why do customers choose Data Loss Prevention?
Part of our overall content security portfolio, which includes Data Loss Prevention, Secure Web Gateway and email security solutions
Integration with Trustwave technology, such as SIEM.
Highly configurable dashboard
Active Directory integration for creation of workflow rules and policy monitoring
Sensitivity-level setting to limit false positives
Features:

Security
Monitor
Based on the patent-pending Intelligent Content Control Engine, Trustwave Data Loss Prevention analyzes all web-based communication and attachments, including through email, instant messenger, P2P file sharing, blogs, social media, FTP and Telnet, for violations of an organization's governance, compliance and acceptable-use policies.
Protect
Trustwave Data Loss Prevention automatically blocks HTTP, HTTPS and FTP traffic violating compliance policies. For email communications and attachments identified as compliance violations, it offers automatic encryption, blocking, quarantine or self-compliance capabilities.
Discover
Based on the Intelligent Content Control Engine, Trustwave Data Loss Prevention can investigate data at rest to find and protect sensitive information residing in stored data. Discovery of sensitive data allows security teams to focus their initiatives on specific users and systems, and then implement the appropriate measures to meet compliance requirements.

Visibility
Advanced Content Control
Working in combination with the content detection technologies and risk categories, Trustwave Data Loss Prevention provides content control and security without impeding the flow of mission-critical operations.
Investigation Management
Trustwave Data Loss Prevention provides a suite of investigation management tools to help with analysis, discovery and forensic evaluation after a violation has been identified.
Real-Time Identity Match
This powerful technology instantly associates the individual with the violation, regardless of protocol, handle or alias used.
How It Works:
Trustwave Data Loss Prevention at a Glance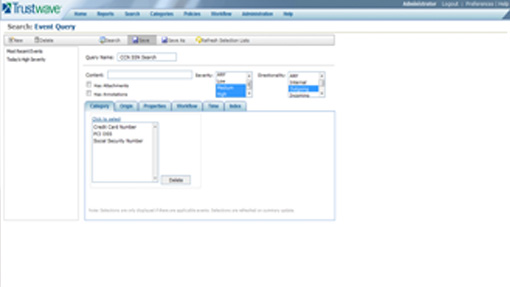 The query builder interface is used to specify search parameters when looking for desired DLP events and incidents.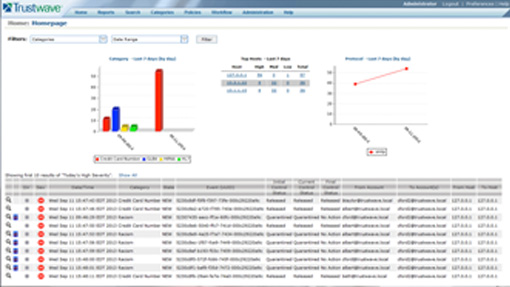 The DLP console home page can be customized to show various reports and query results.
Trustwave Architecture
Trustwave Data Loss Prevention is built on our scalable and extensible Trustwave Architecture, which includes TrustOS™ and TrustedSentry™. TrustOS is the common software platform that unifies all of our products. TrustedSentry is our standardized hardware model. Together, the Trustwave Architecture delivers greater efficiency by allowing for easy scaling and rapid integration across our products, as well as third-party solutions.
Service Options
Standard Support includes email and phone support, plus maintenance updates.
Premium Support includes 24x7x365 email and phone support, one-year hardware warranty, next-day replacement service for Trustwave Secure Email Gateway appliance and maintenance updates.
On-site installation and professional services are also available.
Specifications:
There are two Trustwave DLP system configuration schemes. A standalone system contains the entire product on one device. A distributed system contains at least one administrative device, referred to as a console, which manages one or more data acquisition devices, referred to as collectors.
Device Options
Trustwave DLP runs on specialized and highly-tuned hardware to ensure optimal performance and reliability. Devices are available for both medium and high-load environments, and can be scaled to meet your evolving requirements.
| | Medium Capacity | High Capacity |
| --- | --- | --- |
| | TS250 | TS500 |
| CPU | 1x Intel Xeon E3-2620 2.0 GHz 15 MB Cache | 2x Intel Xeon E3-2630 v2 2.6 GHz 15 MB Cache |
| RAM | 8 GB | 64 GB |
| DISK | 1x 1 TB, No Raid | 3x 1 TB, RAID-5 |
| Dimensions | 19.8 x 17.2 x 1.7 inches / 503 x 437 x 43 mm | 25.6 x 17.2 x 1.7 inches / 650 x 437 x 43 mm |
| Form Factor | 1U | 1U |
| Weight | Gross: 37 lbs / 16.82 kg | Gross: 45 lbs / 20.45 kg |
| Power Supply | Dual 400 W | Dual 700 W |
| AC Power | 100-240 V, 50-60 Hz, 6-3 Amp | 100-240 V, 50-60 Hz, 8.5-3.8 Amp |
| Heat at Rated Power | 2455 BTU/hr | 3110 BTU/hr |