Trustwave Endpoint Protection Suite

Secure against the full threat spectrum
Trustwave Products
Trustwave Endpoint Protection Suite
Trustwave Endpoint Protection Suite
Contact us for pricing!
To be effective, endpoint protection has to be both comprehensive and easy. It should embrace all the devices your organization uses to get business done. From small and midsize businesses to large enterprises, endpoint protection should secure against the full threat spectrum by including anti-malware, policy enforcement and compliance management. And, its adoption should be simple and affordable.
Trustwave Endpoint Protection Suite (EPS) delivered from the cloud is designed to address all of these things. Whether you're looking to improve how you deploy and manage policy and block malware on the desktop, control mobile BYOD device access to your network or audit your mobile point-of-sale (POS) devices and streamline compliance, Trustwave has you covered.
Overview:
By delivering via the cloud, Trustwave Endpoint Protection Suite reduces deployment time and upfront costs for distributed endpoint security across your laptops, tablets, mobile or fixed POS systems and other devices. By integrating core endpoint protection functions, Trustwave also simplifies management and lowers operational costs. This enables greater adoption and optimal defense-in-depth against a range of threats.
Trustwave has recently added a Mobile Security capability for Android and iOS to the Endpoint Protection Suite and will continue to enrich the capabilities for mobile endpoints as part of its new Trustwave Secure Mobility platform. See the feature chart in the How it Works section for a view of the Endpoint Protection Suite feature list.
Trustwave Endpoint Protection Suite Delivers:
All-in-One Protection
Integrated policy enforcement, compliance management and anti-virus and malware deliver complete defense-in-depth coverage for your users, network and data. Modules for rogue-device detection, file integrity monitoring and Windows log collection further enhance security.
Simplified Security
Cloud-based delivery eliminates hardware setup and reduces management overhead for faster, easier and more efficient distributed endpoint protection.
Lower Operational Costs
Make your security budget go further by avoiding expenses for on-site equipment and minimizing ongoing management labor.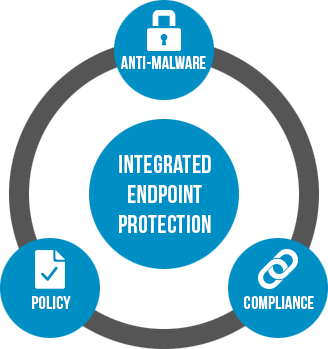 Features:

Security
On the Desktop, it provides real-time protection against malware and other threats on the endpoint, remote or removable drives and files downloaded from the internet - and scans for dormant threats waiting to be activated.
On mobile devices, it performs a series of health audits to proactively protect and defend your fleet of mobile POS devices.
On your network, it detects unauthorized "rogue" devices, resulting in fast response and lower breach risk.
Policy
Ensures endpoint security settings are properly configured and gives maximum visibility and control.
Eliminates major data loss risk by assuring endpoints are free of unencrypted credit card data.
Provides review and reporting on all of your point-of-sale applications to ensure you're running the latest versions.

Compliance
Easily meet PCI DSS requirements and ensure rapid malware detection with consistent reporting on file changes, including those made by malware, unauthorized users and Windows updates.
Delivers a simplified method for collecting and centrally storing required Windows logs for your compliance and security audits and works with Trustwave SIEM to provide event correlation, alerting and reporting.

Integrated Endpoint Protection
Security that works together provides stronger, faster protection. With Trustwave Endpoint Protection Suite, you gain a single pane of glass that allows you to monitor your mobile and fixed endpoints simultaneously. Capabilities include managed and automated policy, compliance and security controls that ensure powerful, and consistent protection across all your endpoints.

Cloud Delivery
Simplifies your endpoint protection with delivery from the cloud. Trustwave Endpoint Protection Suite provides hassle-free security with no hardware to install or maintain, saving you time, money and resources that give you the ultimate in simplified endpoint protection.

Reporting
Comprehensive and customizable reports put all the information at your fingertips to give you 360-degree visibility of your organization's endpoint activity - with dashboard and detailed views across your malware, policy and compliance risk levels.
How It Works:
Trustwave Endpoint Protection Suite Package Options
You choose the bundle, and we'll help you centralize and simplify management, consistently enforce protection across all endpoints, lower cost of security operations and deliver intelligence that equals faster decisions and more control for you.
Module
What it Does
Policy Bundle
Compliance Bundle
Security Bundle
Policy and Security Scanner
Allows you to discover and address policy and security weaknesses quickly and holistically on mobile and fixed endpoints
POS Application Detection Module
Discover compliant payment applications
Credit Card Data Scanner (DLP)
Discover prohibited data on endpoints
Rogue Device Scanner
Conduct network inventory; discover rogue devices
IP Beacon
Synchronizes dynamic IP address information with TrustKeeper for automated scanning of mobile and fixed endpoints.
File Integrity Monitoring (FIM)
Detect unexpected or malicious changes to files, directories and registry settings
Trustwave AV
Prevent, detect and remove malicious computer viruses
Windows Log Collection
Detect, alert and correlate abnormal system events (self-service log review)
Optional Add-Ons (Available as stand-alone or add-ons to any bundle)
Trustwave AV
Prevent, detect and remove malicious computer viruses
File Integrity Monitoring (FIM)
Detect unexpected or malicious changes to files, directories and registry settings