Trustwave Managed Network Access Control

Proactive management, maintenance and monitoring
Trustwave Services
Trustwave Managed Network Access Control
Trustwave Managed Network Access Control
Contact us for pricing!
As the proliferation of mobile devices and corporate BYOD adoption increases, revenue and productivity can rise - but so can exposure to risk. Managing non-standard, heterogeneous devices can often introduce malware into the corporate network. With Trustwave Managed Network Access Control (NAC), you can rely upon a team of security experts to obtain proactive management, maintenance and monitoring to keep your network, systems and data safe.
Overview:
Backed by SpiderLabs threat intelligence, Trustwave Managed Network Access Control (NAC) enables granular control over network access and continuous monitoring of corporate-sanctioned and bring-your-own-device (BYOD) endpoints.
This can help you to prevent the spread of malware and other threats that can harm infrastructure and leave your business vulnerable to attack and data loss. Our services include management of your Trustwave NAC product or other third-party vendor's NAC products.
With Trustwave Managed NAC services, you can expect:
Around-the-clock support from five Security Operations Centers, staffed with experts who have in-depth knowledge and experience working with complex network environments for highly distributed environments. Save time and money while reducing your burden.
TrustKeeper Platform All Trustwave Managed Security Services are available through the Trustwave TrustKeeper cloud and managed security services platform. With more than two million businesses enrolled, TrustKeeper is the portal through which businesses access a variety of subscription-based Trustwave offerings, ranging from enterprise-grade managed security services to compliance and security automation tools for small- and medium-sized businesses.
Integrated threat intelligence from SpiderLabs, the Trustwave advanced threat research team. Let this highly skilled group worry about your security so you don't have to. Increase your uptime by preventing security infections and keeping malware out.
Compliance support for any of a number of regulations and industry standards, including PCI, FFIEC/GLBA, SOX, HIPAA and more. We have deep expertise in compliance and can help you navigate the complexity of these mandates.
Zero capital investment with long-term reduced, predictable costs.
Features:
Trustwave Managed NAC services include a scalable solution designed to help safeguard any network infrastructure, providing protection for all endpoints, managed and unmanaged. We combine agentless NAC with zero-day threat prevention, automated policy enforcement and network intelligence to deliver a unified view of endpoint activity and powerful analysis of your network's history and usage. Together, these features deliver comprehensive endpoint control and offer security checks throughout the lifecycle of a device's network access.
Trustwave Managed NAC services include:
Seamless, agent-less deployment with "dissolvable agent" technology that delivers uninterrupted, full lifecycle pre- and post-admission monitoring support.
Real-time detection and control for managed and unmanaged assets on the network.
Integrated support of BYOD through our Mobile Security solutions portfolio, delivering automated "self-sealing" protection for the network.
Improved threat prevention via automated detection and restriction of non-compliant devices based on device type, vulnerability assessment, potentially malicious behavior or infection.
Centralized management administers and monitors all devices and policies from a central console.
Trustwave Network Access Control dashboard shows instant status, trends and severe issues in need of investigation.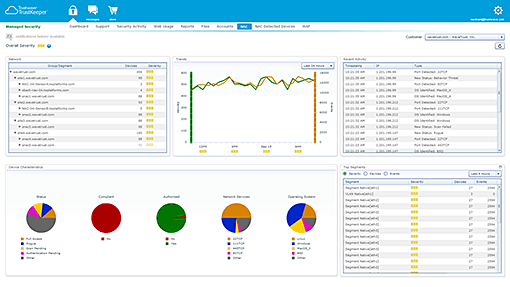 How It Works:
Trustwave Managed Security Services
Learn how Trustwave helps you manage your security in a simple, cost-effective way.
The Trustwave Managed Security Services global Security Operations Center (SOC) network enables us to offer managed services for vendor products, including from Cisco, Fortinet, Juniper Networks and others, all backed by certified expert staff. Our five SOCs provide around-the clock-support, staffed with security experts who have in-depth knowledge and experience working with complex network environments for highly distributed environments.
Related Products and Services
Trustwave Secure Web Gateway
Big Data Insight & Security Enhancement
Managed Security Services
Threat Intelligence and Research