Trustwave Secure Web Gateway

Secure Web Gateway, Mobile Malware and BYOD
Cybercriminals treat the web as their preferred launching pad for data-stealing malware. Users can become infected through malicious links contained in emails or on social networks, through exploits masquerading as software updates or through simply navigating to a website that automatically installs malware.
With Trustwave's award-winning and industry-leading Secure Web Gateway, organizations can detect malware on the fly without relying on signatures, gain zero-day protection against advanced threats and enable the safe and secure use of applications such as Facebook, Twitter and Gmail — all while minimizing confidential data loss and ensuring productivity and compliance.
Trustwave Products
Trustwave Secure Web Gateway
Trustwave Secure Web Gateway
Get a Quote!
Overview:
Using patented technology that offers the most accurate and proactive protection from next-generation threats and the most flexible deployment options in the industry, Trustwave Secure Web Gateway delivers advanced and constant protection against malware and data loss. Why do customers choose Secure Web Gateway to defend them against malware and allow them to securely use the latest web applications?
Built-in intelligence from SpiderLabs, our elite research team
Malware entrapment engine, known as Entrapper, to block malicious content
Single solution for security, policy control and reporting
Behavior analysis engine can capture and report on files related to blocked unknown malware. SWG forensics make the files available for investigation and processing via security tools at your convenience.
Integration with Trustwave technology, including our SIEM, Secure Email Gateway, Data Loss Prevention, Web Application Firewall and Network Access Control solutions
Performance and scalability: 64-bit architecture and support for up to 150 scanners per system
Low total cost-of-ownership
Available as a managed service
Features:

Security
Advanced Malware Protection
Legacy, signature-based perimeter technologies leave a large gap in malware defense. Trustwave Secure Web Gateway bridges that divide with real-time code analysis and dynamic URL categorization to evaluate the composition of an entire web page and determine the intent of that page and its script and software components. Secure Web Gateway strips out any malware and delivers the repaired page to users, so they can remain productive.
Greater Control
Trustwave Secure Web Gateway has a centralized policy manager with a comprehensive single interface. Administrators can set policies in the system and assign them to users, user groups or specific IPs. The changes in configuration are done on one location and are automatically distributed to the scanners. The distribution options and intervals can be easily configured, and the distribution process can be seamlessly monitored.
Deployment Options
The scanning sever component of the Trustwave Secure Web Gateway is available on a number of platforms, including traditional appliances, virtual appliances, cloud-based virtual appliances and virtual appliance platform services. In addition, these platform options can be mixed in a hybrid deployment or deployed as a managed service.

Manageability
Data Loss Prevention
Trustwave Secure Web Gateway scans inbound and outbound communication and identifies data-stealing malware, including keystroke loggers, trojans and rootkits. Furthermore, it creates policy, enforces rules and prevents users from posting sensitive data to social media sites or sending it over webmail.
Enhanced Reporting And Forensics
Trustwave Secure Web Gateway includes seamless security reporting and forensic investigation capabilities that provides complete visibility into an organization's web traffic. It enables organizations to analyze web traffic trends for remediation, execute proactive notifications and review security analytics. It allows gathering blocked malware for further analysis, and provides the largest data processing range available today.
Integration Across Our Portfolio
Trustwave Secure Web Gateway integrates with our other security technologies - including application security, content security and NAC - to leverage their value and provide a more effective solution for customers. Information from these products can feed into the Trustwave SIEM.

Flexibility
Application/Social Media Control
Studies show that roughly eight out of 10 businesses engage in social media. But with the benefits come risks. Trustwave Secure Web Gateway protects against malware proliferation, productivity loss, sensitive data exfiltration and brand damage by granularly controlling interaction that users have on social media sites, such as limiting their actions to read-only.
Industry and Regulatory Compliance
Customers require solutions that demonstrate proof of compliance for industry and regulatory compliance. Trustwave Secure Web Gateway comes with an easy-to-use interface to conduct improved audit logging, archiving and reporting.
BYOD in Business
Trustwave Secure Web Gateway is an integral component of our Mobile Security solution, which provides automated "self-sealing" network protection for BYOD and other mobile devices through the integration of multiple Trustwave technologies.
How It Works:
Trustwave Secure Web Gateway at a Glance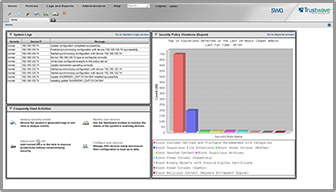 Easy-to-use management console that places system logs, policy violation reports and frequently used activities all in one place.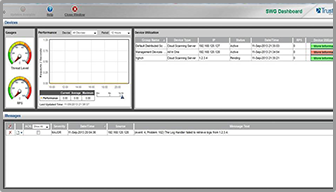 Trustwave Secure Web Gateway's central dashboard compiles threat level, performance, utilization and messages.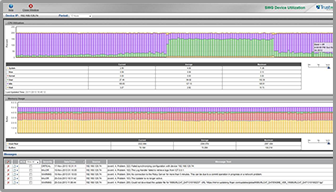 Learn which devices are utilizing the greatest CPU and memory so not to impact performance on your network.
Trustwave Architecture
All Trustwave technology applications are part of our scalable and extensible Trustwave Architecture, which includes our proprietary TrustOS© operating system, TrustedSentryTM, our standardized line of appliances, and TrustKeeper™, our powerful, cloud-based managed security and compliance platform, which delivers unified and on-demand access to all Trustwave technologies and services. The Trustwave architecture model delivers greater efficiency by allowing for easy scaling and rapid integration across all Trustwave solutions.
Service Options
Standard Support includes email and phone support, plus maintenance updates.
Premium Support includes 24x7x365 email and phone support, one-year hardware warranty, next-day replacement service for Trustwave Secure Web Gateway appliance and maintenance updates.
On-site installation and professional services are also available.
Specifications:
| | TS250-SWG | TS500-SWG | TS5000-SWG Blade Server |
| --- | --- | --- | --- |
| Form Factor | 1U | 1U | 7U |
| CPU | 1x Intel Xeon E5-2620 2.0GHz 15MB cache, 6 core | 2x Intel Xeon E5-2630v2 2.6GHz 15MB cache, 6 core | 2x Intel Xeon E5-2630v2 2.6GHz 15MB cache, 6 core |
| RAM | 16GB | 32 GB | 16GB (4x 4GB per node) |
| DISK | 2x 500GB 3.5" 7200RPM 64MB cache SATA hard drive | 4x 1TB SAS 3.5" 128MB cache 7200RPM 6Gbps | 2TB (2x 1TB) 2.5" SATA3 6Gbps per node |
| RAID | - | 6Gbps SAS RAID controller | - |
| Dimensions | 19.85 x 17.2 x 1.7 inches 503 x 437 x 43 mm | 25.6 x 17.2 x 1.7 inches 650 x 437 x 43 mm | 29.0 x 18.5 x 12.1 inches 737 x 470 x 307 mm |
| Power Supply | 2x 400W (1+1) Redundant SuperCompact short-depth AC/DC gold-level power supply with PMBus and I2C | 2x 700/750W Redundant SuperCompact short-depth AC/DC high-efficiency power supply with PMBus and I2C | 4x 3000W hot-swappable (N+1 redundant) |
| Network Interface | Intel i350 dual port 1Gbps Ethernet | Intel i350 dual port 1Gbps Ethernet | 20x internal 10Gbps connections to blades 4x external 10Gbps Ethernet ports (SFP+) |
| USB Flash | 16GB USB 3.0 flash stick | 16GB USB 3.0 flash stick | 2x 16GB USB 3.0 flash stick |
| Remote Management | SMT IPMI | SMM IPMI | SMM IPMI |
| Switches | - | - | 10Gbps Ethernet layer 2/3 switch module 2x 1/10 Gbps Ethernet layer 2/3 switch module |
| Expansion | - | - | Up to 10 twin processor blades (20 Nodes) |