Trustwave Secure Browsing

Trustwave SecureBrowsing makes it safer to search, surf and socialize online.
Trustwave SecureBrowsing makes it safer to search, surf and socialize online. This free browser plug-in displays security icons next to links on search engines such as Google and Bing; in web-based email like Gmail and Yahoo; and on social networking sites like Facebook, Twitter and LinkedIn. Secure Browsing even works on HTTPS version of these sites, so you'll know which pages are safe and which ones to avoid.
Overview:
You're careful. You limit Facebook interactions to trusted friends. You only click on search engine links that look valid. Safe, right? Well, not exactly. Because most malware infections are now spread on legitimate sites, it's hard to know whether clicking that trusted link will lead to an attack that could compromise your identity or privacy.
SecureBrowsing changes that. This free security plug-in gives you an easy way to tell whether a web page is infected before you click.
Why It's So Effective
Malware is commonly spread through infected links on trusted search engines and social networking sites such as Facebook. Most users believe traditional security products such as antivirus and reputation-based web filters completely safeguard them from these threats. Not so. This new breed of malware can change instantly to avoid detection, and basing security on a site's reputation simply doesn't work anymore.
Trusted Web Protection
SecureBrowsing scans pages from popular search engines, social networking sites and web-based email programs to detect even the trickiest malware, so you can avoid falling victim to identity theft or other security threats. SecureBrowsing is the only tool of its kind to scan links in real time, giving you instant, accurate results. Using cloud-based scanners utilizing Trustwave's award-winning Secure Web Gateway, it scans and analyzes the web pages of links that appear in your browser, in web-based emails and on pages within social networking sites providing you with the safest ratings possible.
Easy to Use
SecureBrowsing is ridiculously easy to use. It displays clear safety ratings next to each link on a web page, so you can be confident that you'll click through to safe content.
Free browser plug-in for Internet Explorer, Firefox, and Chrome
Real-time safety ratings
Ideal for Facebook, Twitter, and LinkedIn
Works on HTTPS sites
PC and Mac versions available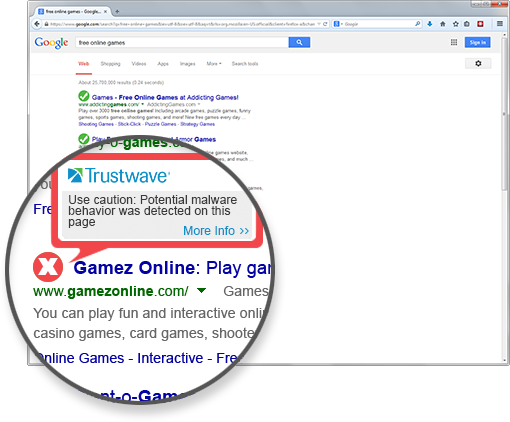 Clear Details
To find out details about a specific rating, click on the "more info" link on the safety balloon to find out why it's flagged as unsafe.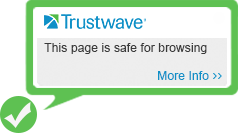 Green means the link is safe for browsing.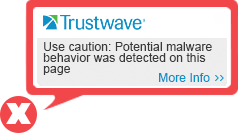 Red warns you when the page might not be safe.
Features:
What is SecureBrowsing?
Trustwave SecureBrowsing is a free, browser-based security plug-in that protects users from malware on search engine sites, in web-based email like Gmail and Yahoo; and social media sites like Facebook, Twitter and LinkedIn. It is the only tool of its kind to use Real-Time Code Analysis technology to provide real-time notification of viruses, phishing attacks and other malware that could be looming on websites, before users click on site links that will infect their system. Security ratings are displayed using easy-to-interpret red/green icons that show next to the scanned link.
Choose SecureBrowsing for the easiest way to search, surf, and socialize online.

SecureBrowsing for Your Needs
Internet threats are sophisticated and many are designed to pass by anti-virus technologies. SecureBrowsing, however, uses proactive real-time security to alert users before an infected website is accessed, protecting users from malware that could compromise privacy or identity.

Your Privacy Protected
Rest assured that SecureBrowsing will not collect any personally-identifiable information. The plug-in will not install any additional programs or change desktop settings. Although infected sites will be logged, it will not track a user's URL history. Downloading SecureBrowsing doesn't even require completion of a single field or any form of identification to be provided.

Fast & Simple Installation
Installation is fast and simple. Click on the download button and follow the installation wizard. With a few clicks of the mouse, SecureBrowsing will be installed and running. No registration or computer re-start is required.
How It Works:
SecureBrowsing is different from other browser security plug-ins
Only the Trustwave SecureBrowsing plug-in uses real-time security technology to scan and analyze the code of a proposed web page, every time a URL link appears. Others check with static lists or use a website's reputation to determine if a proposed link is safe to follow. Using a static list is ineffective because the content on the most-visited websites, such as LinkedIn and Facebook, is changing constantly. Therefore the website code changes, and this makes static approval lists quickly outdated. Other vendors use reputation which is an even less valid option since the majority of attacks are on legitimate websites that would show up as "safe" based on reputation.
Operating Systems
Windows 8, 8.1
Windows 7
Windows Vista SP2
Microsoft Windows XP Home (Service Pack 3)
MacOS
Web Browsers & Domains
Microsoft Internet Explorer 7.0, 8.0, 9.0, 10.0, 11.0
Mozilla Firefox
Google Chrome
Safari
Search Engines: Google, Yahoo!, Bing
Social Networking Sites: Facebook, Twitter,
LinkedIn, Reddit, Blogger, Digg
Protocols & Web-Based Email