Trustwave Go Social Safely

Embrace the benefits of social media while keeping your data safe from the risky online behavior of your employees
Trustwave Solutions
Trustwave Go Social Safely
Trustwave Go Social Safely
Contact us for pricing!
Social media is pervasive and has become widely accepted for business use. Social media and websites that allow user-generated content have legitimate business value for building brands, raising awareness and connecting with customers. As businesses embrace social, cyber criminals have increased their use of these sites as a channel to spread data-stealing malware on corporate networks.

93%
of marketers use social media for business

78%
of salespeople use social media to outsell their peers

52%
of enterprises have seen an increase in malware infections due to social media
Overview: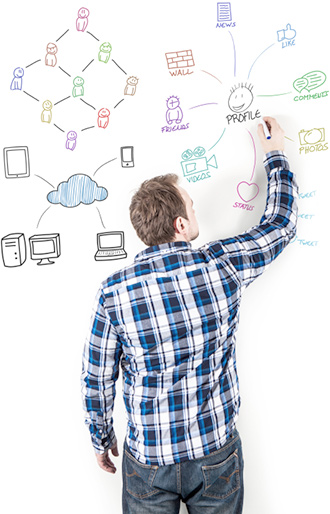 Go Social Safely
Social media is not going away, and IT professionals are finding it more difficult than ever to restrict its use. A survey conducted by Osterman Research and Trustwave showed that a majority of the IT decision makers who responded permit Twitter, Facebook, LinkedIn and YouTube at their organizations.
That is a telling sign that IT and security practitioners will face pushback if they deny employees access to popular social media sites. Aside for their personal allure, these platforms offer compelling business benefits such as lead generation, brand publicity and customer interaction. But if they are going to provide advantages, they need to be secured. These sites serve as fertile ground for malware and sensitive data loss, which could lead to revenue loss, compliance violations and brand damage.
What You Don't Know Can Hurt You
Malware is often cleverly embedded in malicious emails or sent through spam links over Twitter and LinkedIn or in dynamic Facebook and YouTube content such as videos, surveys or contests. In addition, workers may use personal or corporate social media accounts to inadvertently share confidential information about the company with the public.
Technology Plus Knowledge Equals Security
But with the right technologies and education, companies can go social safely. Employees can leverage the enormous connective power of social networking sites, and organizations can rest easy knowing their critical information will stay protected from errant insiders and malicious outsiders. Trustwave can help you minimize your exposure while still reaping the business benefits of social media.
Solutions:
Trustwave can help you embrace the benefits of social media while keeping your data safe from the risky online behavior of your employees. Delivered through our web, email and data security products, we help you reduce malware and increase employee productivity.

Secure Web Gateway
Trustwave Secure Web Gateway protects against malware proliferation, productivity loss, sensitive data exfiltration and brand damage by granularly controlling interactions that users can perform on social media sites like Facebook and Twitter, such as limiting their abilities to read-only.

Secure Email Gateway
Trustwave Secure Email Gateway is a versatile, powerful and scalable email security system for use in any network environment. It integrates email threat protection, inbound/outbound content analysis, policy enforcement, compliance, encryption and data leakage prevention into a single, flexible and easy-to-manage solution.

Data Loss Prevention
Trustwave Data Loss Prevention solutions are for organizations that need to safeguard intellectual property and customer and proprietary data in motion, at rest and in use. We offer an extensive suite of classification, detection, inspection and analysis capabilities, to prevent the outflow of sensitive information that may be purposely or accidentally shared on social media.

Web Filtering
Trustwave Web Filtering helps you enforce your acceptable use policies (AUPs) and easily comply with regulations. Known for its fast performance and multi-tiered administration capabilities, the product sits outside the flow of network traffic to quickly and accurately filter millions of websites in 100+ categories – without impacting bandwidth or productivity.

Secure Browsing Plug-In
The Trustwave Secure Browsing Plug-in makes searching, surfing and socializing online safer. This free browser plug-in displays security icons next to links on search engines such as Google and Bing; in web-based email like Gmail and Yahoo; and on social networking sites such as Facebook, Twitter and LinkedIn.

Security Awareness Education
Our cloud-based Security Awareness Education provides your workforce with the tools they need to help protect your data while on social media sites. By educating your employees to recognize threats like phishing and to not share sensitive information with the outside world, you reduce the chances that your business will become a victim a data breach.
Benefits:
Are your employees using social media in the workplace? Do you expect to use social networking tools to conduct business? When it comes to social media, Trustwave can help you to:

Keep Your Network Safe
Our web and email product offerings for content security keep the bad stuff out and the good stuff in. Trustwave products provide granular control and help identify malware before it hits your network.

Minimize Data Loss
With visibility and control across the entire network, Trustwave content security solutions provide maximum protection against industry and regulatory violations, customer data loss, intellectual property theft, insider threats, inappropriate internet usage and corporate espionage.

Increase Employee Productivity
Trustwave helps you go social – safely. Our content security solutions increase employee productivity by enabling faster communication and better collaboration.