Trustwave Compliance Management Services

Focusing on protecting your data and the privacy of your information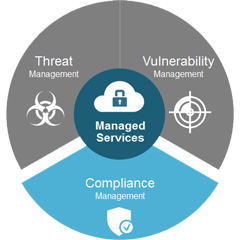 Trustwave Services
Trustwave Compliance Management Services
Trustwave Compliance Management Services
Contact us for pricing!
3 MILLION
Business Enrolled in TrustKeeper
FIVE
Global Security Operations and Support Centers
12
Local languages supported
100%
of our professional services organization are QSAs
Overview:
To be competitive, your business needs to be able to move fast and change quickly. Whether you are running a global enterprise or a small business, protecting sensitive data and mitigating risk is a complex responsibility and not something that can be done alone. Trustwave can help you get that competitive advantage.
Our expert security and compliance veterans will help you identify areas of risk and establish the business and technical requirements needed for an effective information security program. We're here to help you protect sensitive data, such as credit card information, personal health records and intellectual property; protect your business from risk and data loss, and achieve compliance with complex evolving policies and regulations.
Our teams are powered by our award-winning TrustKeeper® cloud and managed services platform so you can automate processes, implement best practices tools and scale your business effectively.
Understand Risks for Peace of Mind
Do the unknown threats to your business keep you up at night? Trustwave has designed our solutions to work together to identify and mitigate risk – our consulting services help you understand how to get started, and integrate with our TrustKeeper platform to provide compliance validation that is efficient and cost effective. Within TrustKeeper, customers have access to the right technology when they need it – whether that's a layer of managed services or endpoint security.
Budgetary Diligence and Efficiency
In addition to giving you an edge on the risks in your business, Trustwave's approach ensures you won't overspend to reach your desired security posture. Because of our close relationship with our customers and our deep knowledge of their challenges, we make sure you acquire the right technology, and not too much of it.
At Trustwave, we understand that meeting compliance standards can be challenging. Our hands-on experience and heritage in security consulting, managed security and R&D, along with almost three million global TrustKeeper subscriptions, provides a strong blueprint to help address your regulatory requirements, including PCI, Data Privacy, SOX, HIPAA and others. Compliance on Demand is powered by people, processes and technology:
Well-credentialed seasoned security consultants
Global partnerships
Best-in-class program and partner management
TrustKeeper - the award-winning scalable, single platform for compliance validation and security solutions delivery
Support when you need it - 24 x 7 x 365
Our Services:
Compliance Management Services
Additional Managed Services
Benefits:
Whether you're managing multiple compliance regimes across a complex global enterprise, or encouraging your merchant portfolio to adopt PCI and secure cardholder data, Trustwave has the expertise to ensure you are mitigating risk and ensuring data security at each step. While known as the undisputed leader for our work for payments industry compliance, Trustwave provides cross-industry services and compliance enabling security programs for business of all types.
Manage Risk
We know that each compliance project is unique – and at its core is the need to mitigate risk for the business. This is why our services, technology and programs are designed to keep risk identification and management at the forefront. What's really important to your business? What's potentially damaging? From here, we make sure you address what's needed.
Extend Your IT Staff
Working with Trustwave is like adding trusted compliance and security advisors to your staff. We'll help you establish a strong and strategic compliance foundation as well as conduct and manage assessments, and deliver elite testing and remediation services. For our partners, our project, product and marketing teams augment your compliance and risk teams for smooth ongoing program management.
Reduce Complexity
Businesses that have achieved compliance find simplicity in the TrustKeeper platform. For small business, our compliance validation tools help simplify complex compliance tasks so they are easy to understand and to complete. . For larger enterprises, TrustKeeper creates transparency and best practices for multiple compliance frameworks to conduct and manage assessments and deliver elite testing and remediation services.
Move at the Pace of Technology
Change in technology is happening more rapidly than ever – and your business needs to stay on pace to best serve your customers. You want to take advantage of the efficiencies and scalability of cloud vendors and mobile solutions – and you need a partner that's at the forefront of these innovations.
Automate Processes
We understand that meeting compliance standards can be challenging. That's why we help you automate your key compliance processes, track and report your compliance measures and streamline your efforts.
Get Secure, On Budget
The Trustwave approach to compliance is to have security in mind – a business that's employing security best practices with diligence will find great efficiency throughout any compliance or governance challenge. In the same way, as a validation program uncovers gaps in a business' security, Trustwave has the right solutions to help solve problems – and help you achieve your IT and security goals without overspending.
How We Work:
Our customers choose to work with Trustwave compliance and risk teams because of our customer service focus. What sets us apart, however, is our knowledge, experience and history delivering assessments and programs that mitigate risk and bring efficiency, cost savings and effective resource allocation to our customers.
Trusted Advisors
Our Global Compliance Services team consists of the best in the business. Not just well-credentialed, but nimble experts that are there when you need them — globally or locally -- to help you tackle your toughest risk and compliance challenges.
Compliance Program Teams
Trustwave's compliance and risk engagements are backed by an internal team to ensure your experience with Trustwave meets your objectives. Drawing expertise from engineering, product management, marketing, project management and support, our team is dedicated to the success of your risk and compliance engagements — be it an assessment, a merchant program or a holistic global risk strategy.
Support on Demand
Our compliance support is available through our global SOC and support centers in Chicago, Denver, Manila, and Warsaw. We take calls, emails and chats year round, 24/7 and support our customers in multiple languages.