Trustwave Vulnerability Management Services

Proactive scanning, testing and remediation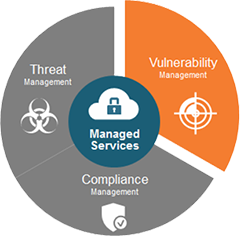 Trustwave Services
Trustwave Vulnerability Management Services
Trustwave Vulnerability Management Services
Contact us for pricing!
4 out of 5
IT pros pressured to roll out insecure IT projects
98%
of scanned applications harbored serious security vulnerabilities
> 1 million
endpoints scanned for vulnerabilities daily
Overview:
Trustwave Vulnerability Management services deliver proactive scanning, testing and remediation of application, database and network vulnerabilities so you can better protect your customer data, financial information, intellectual property and other key assets. Through our integrated, on demand security testing platform, you can rapidly identify and address security weaknesses, thereby significantly helping to reduce threats and risk.
And because our vulnerability management is delivered through the cloud and our industry-leading managed security services, you can worry less about scanning and testing product complexity, resource constraints, and in-house security skills shortages–so you can focus on your core business objectives.
Trustwave Vulnerability Management services help:
Find, fix and remediate vulnerabilities across your business applications, databases and networks
Simplify and manage your access to our expert SpiderLabs penetration testers and ethical hackers
Test the rest–our unique mix of automated scanning and expert penetration testing covers your most mission-critical systems on down
Gain ultimate vulnerability visibility–across your business and among various departments–all in the Trustwave TrustKeeper portal
Make managing vulnerabilities more cost predictable and controllable through our cloud-based, flex-spend model
Benefits:
Secure Your Applications
Plan, test, build, run and protect smarter and safer web, mobile and cloud applications with Trustwave. Our vulnerability management services help you improve the way you deliver and maintain secure apps for your customers, partners and employees. Whether you need automated application security testing across all of your applications, in-depth penetration testing for your most business-critical apps or continuous web application firewall protection, Trustwave can help.
Protect Your Databases
As the production of digital information grows at record rates, relational databases and big data stores are becoming more integral to organizations of all size. These repositories - which often contain the lifeblood of your business - must be protected to prevent improper access and leakage or disclosure of the sensitive data contained within them. With Trustwave, you can discover, assess and report on vulnerabilities, misconfigurations and improper access controls within databases and big data stores and map to industry security and compliance requirements.
Plug Your Network
Trustwave gives your business insight into network vulnerabilities and exposure to attack and/or compromise from outside and inside the corporate firewall. Through our Trustwave TrustKeeper portal, you can manage a prioritized list of vulnerabilities, understand how to fix them and produce reports detailing and verifying your remediation progress over time. You can use our services to meet both IT security objectives – such as protecting confidential data and ensuring the integrity and availability of IT systems – and compliance goals, including auditing security controls to safeguard sensitive information.
Our Services:
Vulnerability Management Services
Additional Managed Services